Skateboarding 200 miles to raise $200K to spread the word that WE have the power to end the climate crisis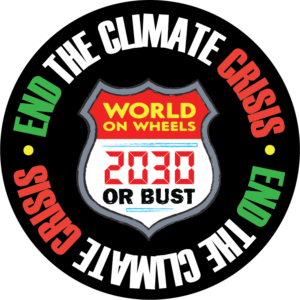 Laughlin Artz, Executive Director of 2030 or Bust, is skateboarding the Sunshine State to bring some sunlight to the climate crisis.
Let's make this happen: A BUCK A MILE! 
Donate personally or as a company sponsor, we're out for 1,000 donors that give $1USD per mile. We aim to reach $200K by the end of the tour. Every dollar goes to empowering someone in ending the climate crisis.
Thank you for joining in Florida!
Come skate, chat, film or volunteer on the World On Wheels Tour. We'll be in Florida, USA from May 5th – 29th. 
CITY                                   DATES
Orlando                               May 5 – 9
Sebring                           May 10 – 14
West Palm Beach          May 15 – 21
Fort Lauderdale             May 22 – 29
Take action to end the climate crisis!