WHAT DOES IT MEAN?
Climate change refers to long-term shifts in temperatures and weather patterns. These shifts may be natural, but since the 1800s, human activities have been the main driver of climate change, primarily due to the burning of fossil fuels (like coal, oil, and gas) increasing heat-trapping greenhouse gas levels in the Earth's atmosphere.

Increasing greenhouse gas emissions from human activity act like a blanket wrapped around the earth, trapping the sun's heat and raising temperatures. Examples of greenhouse gas emissions that are causing climate change include carbon dioxide and methane.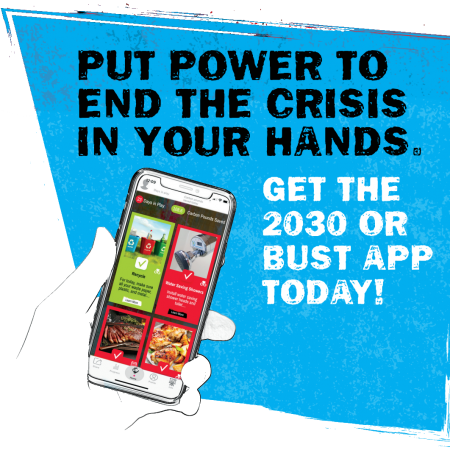 OK, NOW WHAT?
It's the question that people are often left with when they hear the facts about global warming or about the climate crisis.
GETTING THE FACTS DOESN'T GIVE YOU WHAT TO DO, THE ACTIONS TO TAKE OR HOW TO MAKE AN IMPACT. THAT'S WHY 2030 OR BUST.
We offer not only the facts, but the facts inside a REAL PLAN. A plan that will allow us to avoid the current future we're headed for and instead – arrive at a future where all life on earth can thrive.
WE BELIEVE THAT EACH ONE OF US HAS THE ABILITY TO IMPACT THE CLIMATE CRISIS! WE'VE DEVELOPED THESE RESOURCES TO SUPPORT YOU.
Effects of climate change 
Warmer temperatures over time are changing weather patterns and disrupting the usual balance of nature, posing many risks to human beings and all other forms of life on Earth.


NEARLY ALL LAND AREAS ARE SEEING MORE HOT DAYS AND HEAT WAVES; 2021 was one of the hottest years on record. Higher temperatures increase heat-related illnesses and can make it more difficult to work and move around. Wildfires start more easily and spread more rapidly when conditions are hotter. 
Temperature rise is only the beginning of the story. Because the Earth is a system, where everything is connected, changes in one area often influence changes in all others. The consequences of climate change now include:
intense droughts

water scarcity

severe fires

rising sea levels

flooding

melting polar ice

catastrophic storms

declining biodiversity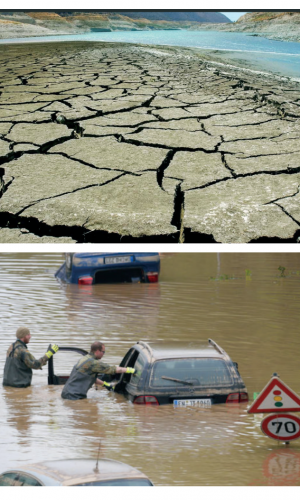 PEOPLE ARE EXPERIENCING CLIMATE CHANGE IN DIVERSE WAYS. It affects our health, ability to grow food, housing, safety and work. Some of us are already more vulnerable to climate impacts, such as people living in small island developing states. Conditions like sea-level rise and saltwater intrusion have advanced to the point where whole communities have had to relocate. In the future, the number of "climate refugees" is expected to rise dramatically.


THE ISSUES CAN SEEM DAUNTING. When you confront the devastation that climate change has done and will predictably cause, it can seem too big and too complex to get your hands around, something that hopefully the government or the UN or scientists are working on.


That's why 2030 or Bust
We've developed the science, models and action scenarios that give you the power to make a real impact in reversing the emissions trend and ending the crisis. But first you have to break up the mindset that you can't make much difference.


WE CAN, IF ENOUGH OF US TAKE THE RIGHT ACTIONS, BRIDGE THE 2030 EMISSIONS GAP so that we can not only contain the damage already done but begin to clean it up.
2030 or Bust – Our Solution
The current solutions being offered to handle climate change tend to be scientific, economic and political. Develop new technologies, employ new business and investment strategies and get governments to enact new laws. All of which are absolutely essential.
WE AT 2030 OR BUST HOWEVER SEE SOMETHING GLARINGLY MISSING – YOU!
WE SEE THE CLIMATE CRISIS NOT ONLY AS A PHYSICAL ENVIRONMENTAL CRISIS BUT ALSO AS A HUMAN CRISIS. The crisis that in the midst of the situation itself, our experience is one of powerlessness – not being able really to make the difference. And so we do our best, do our part, stay hopeful, look for the right leader, none of which is what we at 2030 or Bust call REAL power.
THE FACT IS THAT WITH ALL THE GREAT WORK BEING DONE, WE ARE NOT ON TRACK TO A SUSTAINABLE FUTURE, and this decade is our last window of opportunity to turn things around. We've developed (in partnership with leading climate scientists) the science, models and action scenarios that give you the power to make a critical impact through your daily actions. We've made the ending of the climate crisis a game that anyone can play and together, and, as a critical
mass of individuals can win.
IF ENOUGH OF US GIVE UP THE NOTION THAT THE CRISIS IS UP TO SOMEONE OR SOMETHING ELSE TO HANDLE, SEIZE OUR OWN POWER TO MAKE THE DIFFERENCE AND START TAKING THE RIGHT ACTIONS IN OUR DAILY LIFE, WE CAN BRIDGE THE CRITICAL 2030
EMISSIONS GAP THAT WILL GET US ON TRACK TO A FUTURE WHERE ALL LIFE CAN THRIVE.
WE INVITE YOU TO GET INTO ACTION TODAY! 
JOIN US IN THE EFFORT TO CONFRONT THE CLIMATE CRISIS!