Olav Kjørven discusses the uniqueness of the 2020 or Bust project

Olav Kjørven served as UNICEF's Director for Public Partnerships, was Assistant Secretary-General and Director of Bureau for Development Policy at United Nations Development Programme in New York, and led the effort to accelerate progress toward the Millennium Development Goals in preparation for the post-2015 agenda. He was also senior adviser to the UN Secretary General on sustainable energy initiative.
What he says:
I'm really, really impressed. I've been in this business of what we call "sustainable development" in the U.N. for many, many years and worked on climate change from different angles for many years, and I know a lot of the people that you've met at the COPs and these meetings, and I haven't come across anyone who's done what you've done… And you managed to listen to all these people and then go back and sit in your room and look at charts and come back with a narrative that actually cuts through it all and communicates, I think, to people. … I think this has a better chance of going somewhere with [the] global public than anything else I've seen so far. And that includes 350 and Bill McKibben and all the fantastic things that he and other people are doing, so congrats to you. This is exactly what is needed and I can't tell you how excited I am to see this take shape the way that you're doing it. Amazing. Congrats to you!
Juan Chebly, Lead Adviser at UN Environmental Program, discusses how 2020 or Bust fits in and how it makes a difference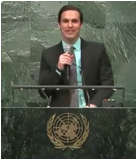 Juan Chebly speaks on the importance of citizen engagement in bridging the gap between where we are headed and what is needed to end the climate crisis, including the work of 2020 or Bust. This is an excerpt from a UNA-USA meeting at the United Nations on 2/17/17.
What he says:
Download the 2020 or Bust app right now! I did it; it helped me reduce my carbon emissions by more than half…
When the change starts within us, we can bring it to our neighbors, and then eventually, we can bring it to the politicians.
Laughlin Artz, executive director of 2020 or Bust, delivers keynote address at American Renewable Energy Day (AREDAY) 2017
What he says:
Artz presents the basic principles and evidence of how individuals are the key to ending the climate crisis.
He has been invited to speak there again on 21 June 21 2018.
Article: "Laughlin Artz and 2020 or Bust Take an Innovative Approach to Addressing Climate Crisis"
How the project uncovered a science-based window of opportunity for averting climate catastrophe.